Personal Growth -
Life
Surprise! Daydreaming Really Works the Brain
Got a tough problem to solve? Try daydreaming.
Contrary to the notion that daydreaming is a sign of laziness, letting the mind wander can actually let the parts of the brain associated with problem-solving become active, a new study finds.
Kalina Christoff of the University of British Columbia in Canada and her colleagues placed study participants inside an fMRI scanner, where they performed the simple routine task of pushing a button when numbers appear on a screen. The researchers tracked subjects' attentiveness moment-to-moment through brain scans, subjective reports from subjects and by tracking their performance on the task.
Until now, scientists had thought that the brain's "default network," which is linked to easy, routine mental activity, was the only part of the brain that remains active when the mind wanders. But in the study subjects, the brain's "executive network" — associated with high-level, complex problem-solving — also lit up.
Read more...
News Cellar -
Biz Models
Wells Fargo to sell online safes
By MICHAEL LIEDTKE, AP Business Writer
Wed Mar 19, 2008 4:33 PM ET
Recognizing not all banking customers want a safe deposit box, Wells Fargo & Co. plans to sell online vaults as a secure and convenient alternative for storing vital records.
When the service rolls out this summer, Wells Fargo believes it will be the first major U.S. bank to offer an Internet alternative to the safe deposit boxes that have been an industry staple for decades.
Because it can't store jewelry, cash and many other precious assets, Wells Fargo's online version isn't likely to replace the traditional safe deposit box. It's more likely to replace shoe boxes and home filing cabinets, said Jim Smith, who oversees the bank's Internet products.
Read more...
News Cellar -
Startup Profile
Online Startup Hopes To Give YouTube Competition
Jul 24, 2007 7:20 pm US/Pacific
Sue Kwon
Reporting
(CBS 5) SAUSALITO Sausalito based crackle.com launches with a new website and a big backer. Josh Felser founded the online video site once called Grouper.

Sony bought it a year ago for $65-million. It restructured the site, packed it with higher end content and renamed it "Crackle."

"It's not for the skateboarder who wants to shoot his friend landing on his head. That's more the environment for YouTube, not for us," Felser said.

Read more...
News Cellar -
Biz Models
DVD or download?
Early adopters may think that movie downloads are cool but it's too soon to declare the death of the DVD.
By Paul R. La Monica, CNNMoney.com senior writer
June 26 2006: 12:44 PM EDT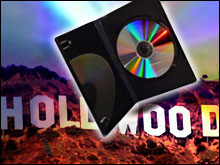 NEW YORK (CNNMoney.com) -- How are you going to watch movies at home in the future?
Are you going to download them on your computer and then watch them on your TV or an iPod? Continue to buy or rent DVDs? Order them through a video on demand service from your cable company?
There are many possibilities. And with that, a lot of confusion on Wall Street about just who will ultimately wind up making the most money from movie downloads.
Clearly, the so-called "content providers" - media companies that produce and distribute films - should be winners, assuming they are able to find the right price that will stimulate healthy demand while not sacrificing profits.
Read more...
<< Start
< Prev
1
2
Next >
End >>
Results 1 - 4 of 6
Newsflash
72% of businesses plan to migrate voice apps to IP network - 8.23.2007 [more]