Beating Oprah at the book club game
Beating Oprah at the book club game
LibraryThing is reinventing the reading group by offering bibliophiles a peek at everyone else's bookshelves.
(Business 2.0 Magazine) — Tim Spalding was 9 years-old when he had the idea of using his first computer–an Apple II–to make lists of the books he owned, like the Adventures of Tintin series and Encyclopedia Brown, Boy Detective.
Flash-forward to 2007. Spalding is now a programmer, and he's still keeping lists, but on a far grander scale. A couple of years ago, on a lark, he created an online version of his original Apple (Charts) application, one that allowed anyone on the Internet to post a list of the books in his or her library, compare it with other online book lists, and talk about literature with people of similar reading tastes.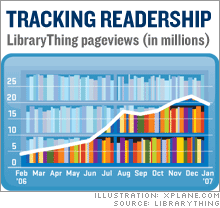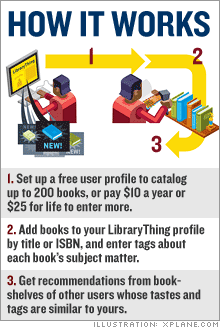 "I was trying to scratch my own itch," Spalding admits. That itch became LibraryThing, a social network based not on who you know but on what you've read. It's already producing a nice revenue stream for Spalding from the sale of thousands of premium memberships at $10 to $25 apiece.
Spalding's creation is quietly achieving cult status among bookworms around the world, creating a network with one of the highest IQs in cyberspace. Less than two years after it opened its doors to the public, LibraryThing's users have listed, tagged, or recommended more than 10 million works–a collection that, were it not virtual, would be the third-largest private library in the United States, behind those of Harvard and Yale.
In the process, LibraryThing has become a sort of anti-MySpace. Here, instead of people finding each other through shared friends, they connect through a shared love for Goethe or Grisham.
LibraryThing is not alone. There are more than two dozen social networks that let members organize and display their book collections, including aNobii, Booktribes, Shelfari, Squirl, and the Amazon.com-backed All Consuming. It's as though the Web suddenly awakened to the social potential of gathering all those kids who are reading in the corner.
But LibraryThing stands out, for both its breadth and its accuracy. While most online book clubs rely on Amazon's (Charts) open databases for their information, LibraryThing also connects to 70 libraries around the world, allowing the owners of some of the rarest books to accurately catalog and share their collections.
"If you are a book lover and you're over 20 years old, you'll have books that are out of print," Spalding explains. "That's why library data is so useful."
The breadth of LibraryThing's collection turns out to be a competitive advantage. Thanks to the site's popularity with the most persnickety of bibliophiles, LibraryThing's power users are willing to pay a premium for its service. Listing your first 200 books is free; displaying more costs $10 a year or $25 for a lifetime membership. Though Spalding won't disclose LibraryThing's revenue, he says the three-employee company has been profitable since 2006.
Jessamyn West, co-editor of an anthology written by library workers called Revolting Librarians Redux, says she uses LibraryThing to keep up with what her friends are reading and to troll for books about niche interests, such as historic stone walls in New England. West also shows LibraryThing to the small libraries she consults with in rural Vermont.
"I've thought maybe they could get a little scanner and upload their collections onto LibraryThing," she says. For just that purpose, LibraryThing sells CueCat bar-code scanners, those relics of the first dotcom bust, for $15 each.
But Spalding expects LibraryThing's real growth to come from using the community's collective wisdom to improve the way the world finds books. Because its system is built on entire book collections, LibraryThing suggests further reading in a way that's markedly different from the methods used by giant sites like Barnes & Noble (Charts) and Amazon (Charts).
Those services examine what titles shoppers have bought or browsed. By contrast, LibraryThing's database works like a dinner party: It sizes up your entire bookshelf and makes informed suggestions–just for you–based on what it finds there. That eliminates books you bought for others and includes the ones you owned before online shopping came along.
LibraryThing is already beginning to break into the bookstore market. Abe-Books, which took a 40 percent stake in the company last year, began using its recommendations in March. Spalding's next target is to get into the business of advising libraries on how to manage their catalogs.
Spalding wasn't thinking about any of that two years ago when he spent a month or so working on the online-catalog idea he'd been pondering since the days of his Apple II. His wife was pregnant and he was in debt, but Spalding found time between freelance programming assignments to steal away to a small downstairs room in their Maine home and code up a modern version of the book lists he kept as a kid. By then he and his wife, novelist Lisa Carey, had amassed an eclectic library of more than 3,000 titles.
Spalding seems to have created something a lot of people need. "When I first went to LibraryThing, it took me about 20 minutes before I said, 'How soon can I give these people $25 for a lifetime membership?'" says Christopher Locke, coauthor of The Cluetrain Manifesto. "A person's library gives a characterization far beyond anything that anyone could ever say on MySpace."
Siri Schubert is a writer in San Francisco.