Entrepreneur finds 'suite' dreams in hotels
Entrepreneur finds 'suite' dreams in hotels
Joie de Vivre's Chip Conley is building a hospitality empire by rethinking how hotels are designed, marketed, and sold, according to Business 2.0 Magazine.
(Business 2.0 Magazine) — On a winter morning in San Francisco, I'm looking out my hotel window as the fog enveloping the Bay Bridge slowly dissipates. I'm enjoying the view–and everything else about my circumstances.
My room at the Hotel Vitale is sleek and modern without being too hip. The decor is understated, with high-end wood veneer and muted earth-tone furniture. There's a flat-panel TV on the wall and limestone in the bathroom. The hotel spa has soaking tubs and a "secret garden," and there's free yoga in the penthouse. The whole place seems lifted from the pages of a design magazine–which, as I'll soon discover, is no accident.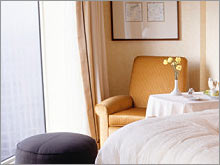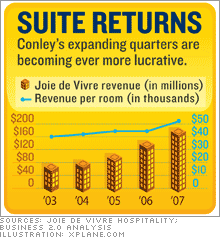 The Hotel Vitale is the flagship of Joie de Vivre Hospitality, the largest boutique hotelier in California. And Joie de Vivre is the brainchild of Chip Conley, a 46-year-old Stanford MBA whose approach to the business is unique: He thinks about the properties he develops as if he were a magazine editor.
"Each of the 35 hotels we've done was based on one or two magazines and the five words that define their personality," Conley explains to me. "The Vitale was a hybrid of Dwell and Real Simple; the words were 'modern,' 'urbane,' 'fresh,' 'natural,' and 'revitalizing.'"
The idea may sound weird at first, but it seems to be working. As other boutique hotel outfits have fallen from the peak of fashion to the depths of been there, done that, Joie de Vivre is surging forward–with plans for expansion so ambitious that, unless Conley is careful, they could prove to be his undoing.
Trim and fashionable, with close-cropped hair and a tiny soul patch on his chin, Conley grew up in Southern California dreaming of being "a weatherman, a sportscaster, or a hotel man," he says. "I loved going to exotic places, and when our family stayed in a hotel, I'd write a little review of what I thought of it."
After finishing business school, he dived into commercial real estate and found himself bored. "It's all day long with negotiations–a very transactional business." The hotel industry struck him as more imaginative. "You could create hotels where it would almost be like pulling a canvas off a wall and making a painting."
Conley was 26 when he bought his first hotel. It was 1987, and the place was a pay-by-the-hour motel–talk about transactional!–in San Francisco's Tenderloin district. As Conley contemplated its renovation, it dawned on him that magazine publishing was "a great role model for boutique hotels. It's niche-oriented, lifestyle-oriented, and the ideal for a magazine is to create a deep emotional connection with its subscribers."
Conley decided that his new hotel, the Phoenix, would have a persona modeled on Rolling Stone and the phrases he thought defined it (see "The Words on the Street," above). "It was helpful in describing for our investors and designers' contractors what we were trying to do," he says.
It also helped to define the target market. "Not just in terms of a demographic– the 26-year-old tattooed musician from L.A.–but a psychographic," Conley says. "People who fell in love with the Phoenix would use those five words to describe themselves. Instead of 'you are what you eat,' it's 'you are where you sleep.'"
Thus was born the Conley method–and the Conley empire. Stretching from Napa Valley to Los Angeles, its properties range from the Rex in San Francisco (based on the New Yorker: "clever, literate, sophisticated, artistic, worldly") to the Avante in Mountain View (Wired) to the Angeleno in Brentwood (Details meets Angeleno magazine). Conley projects that the group will pull in $190 million this year, more than double 2004's results.
That surge comes in part because Conley has been adroit in coping with the rise of Expedia (Charts), Hotels.com, and Travelocity (Charts). Those websites claim a fat commission on every reservation they make and have shifted power from sellers to buyers–a phenomenon that cuts into hotel profit margins.
But by sinking $35,000 into a slick, helpful website (jdvhospitality.com), Joie de Vivre has turned the tables. Among the site's features is a personality test that guides guests to a hotel based on its style and persona, not price. Four years ago 80 percent of the company's Web-driven reservations came from third-party sites. Today that number is just 10 percent and falling fast.
The jury is still out, however, on Conley's appetite for expansion, which seems insatiable. "Our goal is to become the dominant California hotel brand," he says. "We're launching 10 new hotels in the next year, and in three to five years, we're going to have 70."
Conley says he sees the dangers of trying to do too much too fast. "I believe you can be geographically diverse or product-line diverse, but it's hard to do both," he says. He thinks that by sticking to California he can avoid the risks of overextension.
And maybe he can. Yet Conley hints that his sense of restraint is not infinite. Nor is his modesty. "We're sort of going to take over the state, then we'll move beyond that," he says. One day, he says, he'd like to be "the Walt Disney of hotels."
Yet Conley, at bottom, doesn't really seem the megalomaniacal type. In fact, his demeanor is distinctively New Agey: His self-description is "karmic capitalist," for heaven's sake. "I call the company Joie de Vivre for a reason," he says. "I want to have some joy of life in my life. The idea of having hotels dotting the planet is not my definition of success."
Let's hope he means it, because nothing would be a likelier path to ruin than trying to parlay the Joie de Vivre concept into a franchise à la Best Western (or even W). For one thing, there aren't nearly enough interesting magazines to make the model work.
Conley's newest hotel, the Citizen in Sacramento, has been described by one wag as "Harvard Law Review meets Time Out." Oy vey. At this rate, Conley's whole enterprise may wind up seeming like Travel & Leisure meets the Onion.
John Heilemann wrote "Pride Before the Fall." His next book is "The Valley." He lives in Brooklyn.