Forget Joost. Meet the real TiVo of the Web
Forget Joost. Meet the real TiVo of the Web
Unlike its chief competitor, startup Veoh lets you see every free video available on the Web, reports Business 2.0.

(Business 2.0 Magazine) — Never mind YouTube. An application just launched by Dmitry Shapiro, a serial peer-to-peer software entrepreneur, allows you to watch not only everything on YouTube but every piece of free video on the Web.
Shapiro is the founder and CEO of Veoh, already the 10th most popular video-sharing site in the country, according to Nielsen/NetRatings, with content from CBS (Charts, Fortune 500), Paramount, PBS, and 20,000 other sources. Veoh TV is a free video browser, set to launch in late June, that will grab, store, and sort just about everything out there — whether it's on NBC.com (Charts, Fortune 500), CNN.com, or even AskANinja.com. (CNN.com, CNNMoney.com, and Business 2.0 are owned by Time Warner (Charts, Fortune 500).)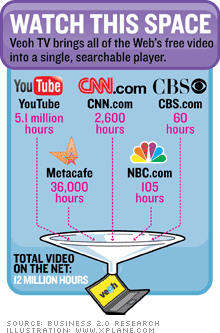 Think of Veoh TV as TiVo for the Internet, with a similar DVR-style interface. You can search for and subscribe to shows and then save many of those video streams as downloads to watch later. (Naturally, you also get any ads embedded in those videos.)
In short, it looks remarkably like TV, and you can control it with a standard remote. (For that you'll need a PC with an infrared port or an extra plug-in device.) "The video-viewing experience should be more akin to watching TV than surfing the Web," says Shapiro, who plans to make money by placing his own ads between shows. His recommendation engine will also serve up targeted ads and other shows you might like.
Veoh TV's main competitor is Joost, the Internet-only TV service started by the founders of Skype. (See "The 50 Who Matter Now") But unlike Veoh TV, Joost is a closed system: It shows only videos from producers with which it has licensing deals. Veoh TV also shows clips uploaded by consumers, à la YouTube, which could get the company into hot water with major media companies.
Still, the more Veoh TV can become the go-to application for online video, the more of a player it can be in the $70 billion market for TV commercials quickly moving to the Web.
"It behooves traditional media companies to put as much content out there as they can," says Saul Berman, IBM's chief media and entertainment strategist, "and to have as many different people selling it as they can."