Photo wars: A $2 billion business gets rough
Photo wars: A $2 billion business gets rough
The giants of the stock photo business–Getty Images and Corbis–are being challenged by a flock of tiny "microstock" agencies. And it's become a game that almost anyone can play, reports Business 2.0 Magazine.
(Business 2.0 Magazine) — Steve Davis used to have a hard time explaining to his mom what he did for a living. She understood that he was the CEO of a Seattle company called Corbis, that it was owned by Bill Gates, and that it sold a lot of pictures.
But she didn't really understand the enormity of Corbis, which holds the rights to 100 million images, including some of the world's most famous photographs, from the exploding Hindenburg to Einstein sticking out his tongue. So a few years ago, on a visit to the small town in Montana where he grew up, Davis showed his mother some of the places where the company's images end up.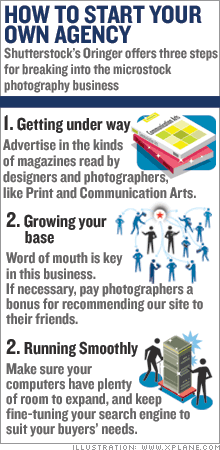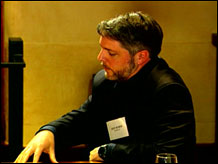 Business 2.0's The Next Net roundtable debates what the Internet of tomorrow will look like.
Play video

"We went to the magazine counter at the one store in town, and Corbis had pictures on 10 covers there," he remembers. "Then we went to the book department, and we had some of the book covers too. At the movie theater, The Matrix was playing, and Corbis had sold stills to the studio for that."
You might think Corbis had a lock on the world of archived photos–if you didn't know about the company four miles down the road: Getty Images. Founded by another very rich guy (Mark Getty, scion of the Getty oil fortune), it has slightly fewer images in its library but a revenue stream that's more than three times bigger. Together, Corbis and Getty stand astride the world of photography like twin colossi, commissioning new photos and selling millions of archival images a year to magazines, newspapers, and ad agencies around the world.
And it seemed as though they would dominate the field forever–before guys like Oleg Tscheltzoff came along.
Tscheltzoff is the president of Fotolia, one of a new breed of so-called microstock houses–born of the Internet and Web 2.0–that are challenging the giants and could soon start cutting into their market share.
While the big two offer exclusives on great photos at prices that range from a few hundred dollars to more than $10,000 apiece, these startups sell pretty good pictures for a good deal less–often just a dollar or two. Unlike Getty and Corbis, which compete fiercely to work with the top artists, the microstock firms get most of their photos the way Wikipedia gets its entries, by "crowdsourcing" work from interested amateurs or beginning pros.
And, like Wikipedians and bloggers, the micro-stock sites are radically remaking their corner of the media business.
"We have a disruptive business model," says Tscheltzoff, who co-founded Fotolia in 2005. "One of us could even challenge Getty."
That could take some time. Although Fotolia sold 4 million images last year, it doesn't offer the quality or the exclusivity that ad agency art directors demand, so it can't charge premium rates. (Time Inc (Charts)., which owns Business 2.0, has relationships with Getty and Corbis. Both companies license photography to Time Inc.'s magazines, and Getty acts as a broker in the syndication of the Time Inc. Picture Collection.)
Unless they adjust to the new reality, however, the giants could find themselves in trouble. Getty (Charts) has been profitable since it was founded–last year it took in more than $800 million in revenue–but magazine advertising is in decline, as is the demand for its kind of high-end photos. During the past year, Getty's stock price has taken a dive, dropping from $90 a share at the start of 2006 to just over $50.
Corbis, for its part, started as a pet project of Gates's and has never turned a profit. Industry observers estimate that the company might have lost as much as $1 billion since 1989; Corbis had no comment on that figure.
"This is the Harvard Business School case study of a fragmented mom-and-pop analog business that went through a technology disruption and industry consolidation," says Corbis's Davis.
In the '90s, Getty and Corbis revolutionized the photo industry, snapping up the small agencies that dealt in film, digitizing their libraries, modernizing search and rights management systems, and selling their backlists online. Now the two companies are scrambling to make sure they don't end up as a B-school case study on victims of technological transformation.
"They picked an industry that is susceptible to crowdsourcing, and suddenly that became a major thing," says Jim Pickerell, editor of the industry newsletter "Selling Stock." "Now anybody can play."
David and the two Goliaths
In a Manhattan Starbucks, a continent and a sensibility removed from the Corbis and Getty offices, Tscheltzoff is describing how Fotolia is trying to play David to the industry Goliaths. The company offers 2.2 million images taken by 25,000 photographers, but it employs only 18 people–all but three of whom work from home.
"We IM and talk on Skype," says Tscheltzoff, a Frenchman who splits his time between New York City and Paris. When he needs to take a meeting, he says with a sweep of his hand, "this is my office." Today's rent is a small iced coffee, which he sips as he explains how his business works.
As he describes it, the microstock model is the picture of efficiency. Submissions pour in electronically from photographers, who get 50 percent or more of the proceeds of each sale. The company has few inventory concerns, no shipping issues, and hardly any operating costs. The business broke even after eight months, Tscheltzoff says. (He won't reveal much more, except that annual sales are less than $10 million.) The biggest expense is marketing: selling the company to both prospective contributors and potential customers.
"If you don't have buyers, you don't get photos," he says. "And if you don't have photos, you don't get buyers."
Other microstock sites–there are several large ones and dozens of smaller entries–tell a similar story, although the details differ. Jon Oringer, founder and CEO of Shutterstock, based in New York City, sells low-cost photos by subscription–25 photos a day for $199 per month or $1,999 per year. The other large independent player is Dreamstime, based in Brentwood, Tenn., which operates more like Fotolia and has been profitable since launch, according to COO Jeff Prescott.
At all these sites, employees decide what photos to accept, but the contributors do much of the work of organizing the material–submitting their pictures with keywords that are then scanned by the sites' search engines.
"The margins are great," says Alan Meckler, CEO of Jupiter Images, which pioneered a low-cost subscription model before the microstocks arrived. "You could be playing golf on the weekend and come back to see you had made several million dollars."
Let's make one thing clear: These aren't necessarily arty photographs. Most microstock images are provided by amateurs looking for extra pocket money–many of Shutterstock's photographers make $200 to $300 a month–and at best they shoot the kind of pictures top art directors refer to dismissively as "stocky."
"The creatives won't choose the microstock photos because they're not tasteful," says Josette Lata, former head of art buying at JWT. "If it's a photo of a mother and a baby, you don't want them both looking at the camera and smiling."
But even stocky pictures have their uses–magazines trying to save money on images that will run small, Fortune 500 firms putting out internal newsletters, and, above all, bloggers and website designers. That's where microstock could really hurt Getty and Corbis.
"Quality," Dreamstime's Prescott says, "is in the eyes of the beholder."
The microstock challenge
Until the mid-'90s, whenever art directors needed a picture, they would call a few of the scores of small photo agencies to see what they had. They would get a dozen or so slides, negotiate for the rights to use the ones they wanted, and send the rest back.
"It's not that long ago," says Getty co-founder and CEO Jonathan Klein, "but I can't believe we ever did things that way." He and Mark Getty, who became friends while working at the London investment bank Hambros, helped change that. Looking for an enterprise they could build with Getty's family money, they were struck by the margins in the image business, and the potential to streamline it with new technology–which, back then, was the scanner.
Over breakfast at the W hotel in New York's Union Square, Klein explains how he plans to respond to the microstock challenge. Until a few years ago, stock photos were a scarce resource and Getty controlled a good part of it. The company used its market share to its advantage, negotiating to get a better percentage of revenue from photo sales and selling images owned by other agencies in exchange for a cut of the action.
But now that high-resolution digital cameras have made it easier to take good pictures and websites have made it easy to post them, there are better pictures–if not great, then often good enough–all over the Internet. "Content is increasingly ubiquitous," Klein says, "so power resides with the consumer, not the provider."
Klein's initial plan for dealing with the microstock revolution was to buy into it. In early 2006 Getty purchased iStockphoto for $50 million. As he tells it, the revolution is a blessing in disguise. Most of iStockphoto's customers could never have bought an image before, and many probably simply copied what they needed. If Klein can bring them in the door with iStockphoto, he might get some of them to consider Getty's better images, and to this end he'll introduce a new line of photos that is more expensive than microstock but cheaper than the company's other offerings.
"Our aim is to provide imagery for every budget," Klein says. "I want as much share of each customer's wallet as possible."
Just as important, Klein wants to set Getty apart by providing a better buying experience. "I cannot say, hand on heart, that I have the best picture of the Chrysler Building," he admits. "So I have to make sure I have the best search engine, the best service, and I make it as easy as possible for customers to license it, regardless of their budget."
Of course, selling less expensive images will cut into revenue unless Getty can make it up with volume. Getty's third-quarter earnings call is scheduled for a week after this breakfast, and Klein doesn't mince words. "It is clear that 2006 has been disappointing, and the third quarter has been no exception," he says.
Getty's rivals aren't sad to see the company stumble. Jupiter's Meckler writes in his blog that he'd welcome applications from employees laid off in Getty cutbacks, and a Corbis publicist sends an e-mail to make sure Getty's news isn't missed. But the three companies all face the same problem. Two weeks later Jupiter announces disappointing earnings of its own.
Bill Gates and his bear
For Gates, the challenge facing Corbis comes down to bears. At a meeting last year with top Corbis executives, the Microsoft (Charts) founder asked the billion-dollar question: "Why would anyone pay $200 for a picture of a bear if they could get one for a dollar?" According to Corbis chief creative officer Ross Sutherland, Gates followed up with an even tougher question. "We're in the business of $200 bears," he said, "so what's the future for us?"
Unlike Getty, Corbis doesn't have a great past. After Gates founded the company in 1989, Corbis spent a fortune buying up photo archives and then struggled to generate revenue with interactive kiosks and CD-ROMs. Davis, an old friend of Gates's, says Corbis has always taken the lead in terms of technology.
"Bill isn't an investment banker," he says, "so it's about 'How do we innovate?'" But Corbis eventually followed Getty into the business-to-business market, first just for editorial images and then a few years ago for stock photos. Revenue has grown steadily ever since, nearly doubling from 2002 to 2005 and growing another 11 percent last year to $251 million.
In February, during the company's earnings call, Corbis announced that it will build its own microstock site. In an interview with Business 2.0, Corbis president Gary Shenk insists that the company has nothing to fear from its tiny competitors. It just makes sense for Corbis to get a foothold in that business.
"We can't deny that the economics of the opportunity are good," he says.
The road ahead
At Corbis, the future looks like an open road–literally. In fact, a picture of an open road will soon be one of the images that come up when you search the company's website for the keyword "future." That particular picture was taken in Prague by Corbis chief photographer Patrick Donehue, who thought it looked good enough to appear in an advertisement.
"I didn't think of it as a road," Donehue says. "Good photographers see things in terms of the conceptual nature of an image."
This is an esoteric skill–and one that is devilishly hard to program into a computer. Yet Corbis and Getty see search technology as a way to set themselves apart from microstocks. As Klein puts it, it's all about making the image of the Chrysler Building easy to find. "One of the frustrations people have with the micro sites is that you can search the whole day for what you need and not find it," says Christa Quarles, an analyst at Thomas Weisel Partners.
A road, for example, can mean many things to many people, and microstock sites rely on their contributors to make the leap to "future." That can be tricky, especially when you're doing business in different countries. But Getty and Corbis have each set up branching structures within their databases so photos found by looking up one term (say, "dog") also come up under others ("canine," "mammal," "animal," "pet"). The idea is to maximize utility as well as sales, to bring the user the closest thing to what he wants without ever returning an empty page.
Last fall Getty introduced new search technology that lets clients "branch up" within a search–to go from "dog" to "mammal," for example. "We want to expose our thinking a little bit," says Linda Ranz, Getty's senior vice president for customer experience. The new search engine will also let art directors sort within search results by dominant color, basic shape, and whether an image has room for text.
You can't do that with a Google image search. Google (Charts) finds pictures by keyword; it doesn't differentiate among various meanings of a word. "Think of a search for 'white house,'" Ranz says. "It could be a white house or the White House." A Google image search for "White House" brought up pictures of 1600 Pennsylvania Ave., press conferences that took place there, a drawing of what looked like a 19th-century reception, and a swimming pool design company that used the words "White" and "House" in one of its captions. Getty's search engine doesn't make that kind of mistake.
In a way, that's the easy part. Like its competitors, including some microstock sites, Getty does business around the globe. Its site allows users to search in 12 languages, and by the end of 2007, Ranz says, the new search engine will have nine of them. In addition to researchers and programmers, Getty has a team of seven linguists whose job is to fine-tune the connections between metadata and meaning.
"If you have the right picture but it's hard to find, you don't have the right picture," Klein says. He figures that if anyone can ride out this technology-driven transformation, it ought to be the company that sparked the last one. "We've seen this movie," he says just hours after his disappointing earnings call. "We've starred in it."
These days Getty seems to be working hard to stay in the spotlight. The company announced at the end of January that its revenue rose 10 percent in 2006, and let it be known a few weeks later that it had acquired WireImage, a small house with a library of entertainment industry-related stock photos. As this issue went to press, Getty was reported to be making a bid to take over Jupiter Images as well.
"Reports of the demise of traditional stock," Klein says, "are exaggerated."
But technology seems to favor his new competitors. "Our advantage is efficiency," says Shutterstock's Oringer. "And if Getty can use iStockphoto to upsell its customers, why we can't we use higher-priced photos to start moving into its market?"
Robert Levine is a New York-based freelance writer.
>BackTrack <