Profile: Hotswap.com
Woz steps in to help video startup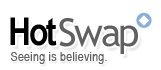 Steve
Wozniak, the man who invented Apple's first two microcomputers, is
working as an advisor for a company called Hotswap.com, which
reportedly has developed Compression
technology that could revolutionize internet video. "I like what
they're doing. It's definitely a step forward," said Wozniak, adding
that he signed on as an adviser to the company to "give them ideas that
come into my mind.".
Hotswap.com emerged from graduate computer science research into
digital "compression" technology that its founders say can make common
digital camera movie clips mimic high-definition television on Web
sites.
Luke Thomas, a 21-year-old former UC Berkeley grad student and
Hotswap chairman, said the often-fuzzy videos uploaded by amateurs onto
YouTube.com and similar Web sites can be transformed by Hotswap's
technology.
The company has already won contracts with AutoNation Inc. and with Red McCombs Enterprises' chain of auto dealerships.
Rad Weaver, McCombs' vice president of business development, said
the company has begun using video clips with Hotswap technology for its
used car listings on the Internet.
The San Antonio, Texas company sells about 40,000 new and used cars a
year and is part of the business empire of Red McCombs, 79, an
oil-and-gas magnate who started a car
dealership chain in Texas and expanded into home building, oil and
other businesses before co-founding Clear Channel, the media company,
in 1972.

Source: Information Week