Time to play, money to spend
Time to play, money to spend
Webkinz and Club Penguin struck gold by attracting millions of kids to their online worlds and keeping them there. What makes their sites so sticky?
(Business 2.0 Magazine) — Eleven-year-old Liana Crandall, a fifth-grader in St. Louis, is a typical overscheduled kid. When she isn't playing soccer or basketball after school, she's swimming or singing in the choir. But she always makes time for one special thing.
"I get all my homework done during recess because then I can go home and play Webkinz," she says. "I play at least an hour a day, two hours tops."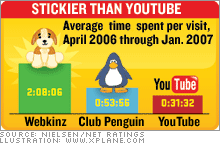 Never heard of Webkinz? You will.
The site is the brainchild of Ganz, a Canadian toymaker with a popular line of plush pets. Two years ago Ganz created an online environment to entertain the owners of its stuffed animals and was quickly swept into the exploding world of virtual-reality gaming aimed at tweens, children between the ages of 8 and 12.
The value of this exact market hasn't yet been tallied, but a 2005 report by Packaged Facts counted 29 million U.S. kids ages 8 to 14, with a combined annual purchasing power of $40 billion. Nearly 90 percent of these children are now online, which means there's a lot of money to be made by websites that can capture the kids' attention and their impressionable eyeballs.
Ganz's Webkinz.com and a site called Club Penguin were early entries into this market, but they've been joined this year by the giants of tween marketing: Disney (Charts) and Nickelodeon (Charts). What started as an Internet sideline for a plush-toy company is shaping up as a battle for the hearts and minds of a generation.
It's a battle that bears watching by anybody interested in making money on the Web, because once children aim their browsers at one of these virtual worlds, they tend to stay there, not just for a few minutes but for hours at a time. The sites are, in the jargon of the webmaster, extraordinarily sticky.
This is how they do it.
Imagine Beanie Babies in cyberspace and you have a pretty good picture of what Ganz is up to. The company sells its Webkinz–special-edition plush toys with names like Googles, Cheeky Monkey, and Love Puppy–for $10 to $12.50 apiece.
Each comes with a tag featuring a "secret code" that gets its owner into the Webkinz World website. There the toys come to life on the screen, ready to be adopted. The kids give each toy a gender and a name and can spend "kinz cash" to buy food, clothes, and furniture. They're also invited to play games, enter trivia contests, chat with other pet owners, and even take jobs–such as flipping virtual burgers–to earn more spending money.
It's a model that can be enormously seductive. Ganz reports that toy buyers have snapped up more than 2 million Webkinz pets since April 2005 and better than 1 million users have registered online. More than $20 million in retail sales in less than 24 months is considered pretty good money in the plush-toy business. Ganz is privately held and won't disclose its profit, but to put that growth rate in perspective, it took Second Life three years to attract the first 1 million "residents" to its virtual universe.
Club Penguin uses a different approach but gets similar results. There are no plush toys to buy or entrance fees to pay. New members are offered small virtual penguins that they can adopt, name, feed, and clothe. They can also chat, play games, and even help publish the Club Penguin newspaper.
Where creator New Horizon Interactive makes its money is in what it calls premium play. Any kid can have a penguin for free, but if he or she wants to decorate the penguin's igloo, Mom or Dad will have to subscribe–for $6 a month, or $58 a year. Traffic has mushroomed. Club Penguin saw 2.9 million unique visitors in January, according to Nielsen/NetRatings, up from just 705,000 in March 2006.
So what keeps Crandall and millions of other kids playing for more than an hour each day?
One thing that attracts them, experts say, is the sense of power that children get in a virtual world but rarely experience in real life. "This isn't rocket science," says Club Penguin founder and CEO Lane Merrifield. "A lot of virtual-reality companies look at these games like television–'We are going to entertain you, and you are going to enjoy it.' Ours is a two-way stream."
One way Club Penguin gives kids control over their environment is by letting them "bank" points they win in games and convert those points to "money" that can be used to customize their igloos. "Club Penguin Time," a standardized clock (actually based on Pacific time), lets kids from all over the world meet up online without having to worry about coordinating time zones.
Another trick used by Club Penguin to keep kids hanging around is throwing themed "parties." During the holidays, for example, Club Penguin's writers built a plot around a huge winter storm. News of the storm began leaking onto the site's weather reports in November to create a buzz of anticipation. When the storm finally hit in December, it dumped snow in every room on the site.
The penguins had to dig tunnels to get around. Captain Rock Hopper, the site's pirate, was delayed by the gale. When his ship finally landed, it was in shambles and the penguins had to repair it. The winter party was a big success: In December the number of unique visitors to Club Penguin jumped by more than 20 percent.
But kids are fickle. Bennett Morris, 7, and his brother Lawson, 5, used to live for Club Penguin but are now enthusiastic Webkinz players. The boys, who live outside Boston, like the variety of the Webkinz animals and the "houses" they live in. "I like the private rooms. I like to get furniture and decorate King Kong's house," Bennett says. King Kong is his Webkinz gorilla. He also has Coco (a monkey) and Gumdrop (a chihuahua). "I like Webkinz better because there are more games," Lawson pipes in. "My favorite is Wheel of Wow, but you can only play it one time a day."
This is an important feature: Webkinz puts strict limits on how much time kids can spend on any activity–a "leave 'em wanting more" strategy that is one of the secrets of the site's success. Webkinz's traffic ballooned from 1.1 million unique visitors in November to 1.9 million in December. Moreover, kids spent an average of two hours and eight minutes per visit on Webkinz between April 2006 and January 2007. (YouTube, by contrast, averaged 32 minutes per visit during the same period, while Club Penguin averaged 54.)
What will happen once Disney and Nickelodeon get their sites rolling is anyone's guess. Disney just relaunched an existing virtual-reality site under a new name: Disney Xtreme Digital (DXD). Users get to choose from among more than 500 Disney-branded character-and film-themed sites (Hannah Montana or Buzz Lightyear for tweens, Pirates of the Caribbean for teens, etc.).
Nickelodeon launched its entry, Nicktropolis.com, at the end of January. Kids are invited to create virtual identities and spend virtual currency in Nickelodeon stores or visit online versions of top-rated Nickelodeon shows like SpongeBob SquarePants.
Club Penguin and Webkinz trumpet their sites as safe, ad-free environments. Disney and Nickelodeon are more frankly commercial and–in a big shift–ad-supported. Marketing to kids is always tricky; no one wants to be seen shilling to children. And whether the kids will buy the branded content, or the products advertised, remains to be seen.
But the biggest question hovering over this whole market is what the kids will want in the future–like next week. The most carefully crafted strategies can be blown up by an overnight shift in whatever adolescents deem cool.
Just ask Crandall. She can reel off a dozen reasons she now prefers Webkinz to Club Penguin but doesn't hesitate when asked how she finds the hottest new games. It's easy, she says. She asks her friend Danielle.
Carleen Hawn is a freelance writer in San Francisco.
>BackTrack <